Details:
For WWE Action Figure collectors here's a treat for you guys, As you may know WWE and Mattel collaborated in 2010 in making WWE figures exclusively to there line.

Well as part of it's series it introduced a line called WWE Legends w/c consist of past WWE superstars ressurect action figure format.

Among all the popular superstar listed on that line is WWE Legend Ultimate Warrior, as you may know Mr. Warrior himself is an avid action figure collector. The story goes here that mattel created a specific figure just for him in United states of America colors.

It all started when Mattel and Ultimate Warrior posted it via twitter and wrestlingfigs ran an article on it's website dated july 2011 that mattel created a specific action figure exclusive made for the ultimate warrior w/c is called Warrior USA. thus alot of WWE action figures collectors salivate just to own one.

Original Link Wrestlingfigs story and photo:
WWE Mattel Legends Warrior USA Colors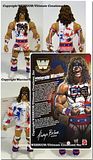 Billed as "
The Rarest WWE Mattel Action Figure ever made
"
*Author's note: Yes i do have the unreleased jeff hardy also. wink..
According to some wrestling figure forums i believe there are 4-5 production pieces made of this figure, 2 for Ultimate Warrior, 1 for Mattel Offices and one.. Let's say is in the hands of good ol' throwbackchampion. Oh it's not a custom figure, no offense to my bestfriend
skrribbel24
(
facebook.com/skribbel24customs
). whose an avid fellow warrior fan also...It's the real deal folks.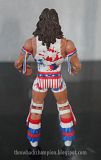 Along w/ the Unreleased Mattel Jeff Hardy
Complete Warrior Army *Mattel Only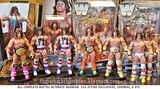 Thanks for looking!